Residence
State Bar Admissions
New York

Florida

District of Columbia
Federal Bar Admissions
U.S. Supreme Court

United States Court of Appeals for the First, Second, Third, Fourth, Fifth, Sixth, Ninth, Eleventh, District of Columbia, and Federal Circuits

United States District Courts for the Southern District of New York, the Eastern District of New York, the Middle District of Florida, the Southern District of Florida, the District of Columbia, the District of Maryland, the Southern District of Indiana, the Western District of Michigan, the Northern District of Texas, and the Western District of Oklahoma

Court of Federal Claims
Education
University of Notre Dame, J.D.

Rensselaer Polytechnic Institute: M.S. Computer Science, M.S. Physics, B.S. Physics
Professional Societies
American Bar Association (currently co-chair, Subcommittee on Computer and Intellectual Property Crime)

Association for Computing Machinery (currently member of USACM, the ACM's national policy committee; and chair of the Law Committee)

American Physical Society

District of Columbia Bar Association

Florida Bar Association

Cyber Security Technical Program Committee, IEEE International Conference on Technologies for Homeland Security
Andrew Grosso

Principal Attorney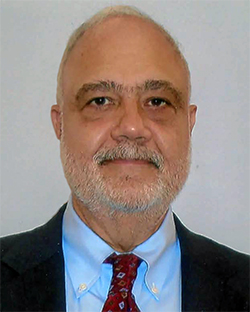 Andrew Grosso is a former Assistant U.S. Attorney who started his law practice in Washington, D.C. in 1994. He is a graduate of the law school of the University of Notre Dame, and holds master of science degrees in both physics and computer science from Rensselaer Polytechnic Institute. As an Assistant U.S. Attorney, he served from 1983 through 1994 in Tampa, in the Middle District of Florida, and in Boston, in the District of Massachusetts, concentrating in the criminal prosecution of government program fraud. He founded the Department of Justice's first health care fraud task force, and was a founding member of the Department's national Health Care Fraud Working Group.
Mr. Grosso's practice includes the prosecution of False Claim Act whistleblower or "qui tam" cases; hi-tech commercial litigation; corporate compliance matters and internal investigations; Internet and privacy law; and cyber security and cyber litigation. He has acted as counsel to the Massachusetts Institute of Technology and co-authored the resulting "Report to the President: MIT and the Prosecution of Aaron Swartz."
Mr. Grosso has served on the Council for the American Bar Association's (ABA) Criminal Justice Section; has chaired that Section's Committee on Science, Technology and Forensics; and has been a member of the Committee for the International Freedom for Scientists for the American Physical Society (APS). Since 1996 he has been a member of the national policy committee of the Association for Computing Machinery (ACM) and currently chairs the ACM's committee on law. He also twice chaired the ABA's National Institute for CyberLaw.
Among Mr. Grosso's accomplishments as both an attorney in private practice and as a federal prosecutor are the following:
United States ex rel. Campbell v. Lockheed Martin Corp., involving defective pricing and fraud in military contracts, settling for $38 million after eight and one-half years of litigation
United States ex rel. Marcus v. Tumbleweed, alleging defective pricing in a GSA contract, settling for $6.2 million
United States ex rel. Kessler v. American Postal Workers Union, involving fraud of the Federal Employees Health Benefits Program, settling for $2.2 million
United States ex rel. Kite v. Brookhaven Memorial Hospital, defending hospital accused of submitting false claims to the Medicare program
Fitzhugh v. Countrywide Home Loans, representing thirty low-income, first time minority home buyers in complaint alleging fraud against mortgage lenders and developers, [settlement terms confidential]
Feist v. Paxfire, Inc., defending Internet company in class action alleging violations of the wiretaspan and privacy laws [case ongoing]
Armentrout v. Neustar, Inc., representing former CEO of NeuLevel and Vice President of NeuStar for wrongful termination [settlement terms confidential]
United States v. Paradyne Corp., prosecution for fraud on the Social Security Administration in the procurement of a major computer contract
United States v. Mayers, two-month racketeering trial on charges that the defendant operated multiple health clinics to defraud Medicare and private insurance carriers
United States v. Aerodyne Investment Castings, Inc., prosecution for falsifying test results of turbine blades in military aircraft
United States v. Ohio Pure Foods, trial against former presidents of a corporate defendant for fraud on the U.S. Customs Service
United States v. Osmomedic, Inc., trial of physicians for prescribing medically unnecessary devices charged to Medicare and Medicaid
United States v. Baker, trial of officers of a defense contractor for defrauding their company's shareholders
United States v. Gordon, trial of company's president and his associate for submitting worthless construction bonds to the Air Force